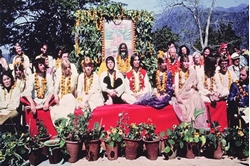 Everyone knows about The Beatles and their India connection. The group visited India at a time of no Internet and very few news sources as compared to today. So for all those grey-haired people who have grown up listening to The Beatles, and seek information on the band's time in India, Ajoy Bose's book on the group can be a good source of information.
Across the Universe focuses more on the band's escapades in India, with some stories from other parts of the world thrown in for good measure. The author prefers to justify the title on the grounds of their story involving people from across the world.
Bose did not get to talk to The Beatles, but has done a lot of research on the group and borrowed a lot from people who met them. One of them is Ajit Singh, owner of Pratap Music House in Dehradun, who had visited the Rishikesh ashram and interacted with the band. In fact, he had also repaired their guitar. The author did get to interview George Harrison's wife Pattie Boyd to tie up some loose ends. For a Beatles fan, this book brings to life several memories of the songs and the group.
Source: Madan Sabnavis/financialexpress.com