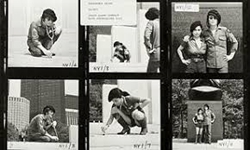 A rare contact sheet of candid photos of John Lennon and Yoko Ono exploring New York City in the 1970s has emerged for sale.
The Beatle and his artist wife are seen posing in front of a statue at a park in one of the throwback black and white images.
In others they also take turns listening to the ground using a stethoscope.
The couple stoop down together in this image from the collection taken in New York City, possibly for Lennon's Imagine album, released about three months after these images were taken by the photographer who also took the iconic image of the Beatles crossing Abbey Road
Lennon, then aged 31, is in a casual shirt and trousers, while Ono, who was seven years older, is in a dark top and short shorts.
The 20ins by 16ins sheet features 12 pictures taken by celebrated British photographer Iain MacMillan in 1971.
He was close friends with the couple and stayed with them in New York that year.
The contact sheet is going under the hammer with auctioneers Bonhams, of London, at a price of £9,000.
Source: Antony Thrower/dailymail.co.uk