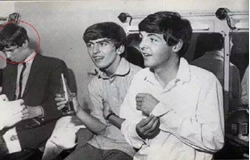 One of the last people alive to have worked with legendary English rock band, The Beatles, has lifted the lid on his time spent with the group.
Famously quoted by Paul McCartney back in 2004 as "being better to ask about it [information on The Beatles]" than McCartney himself, Tony Bramwell grew up in Liverpool with George Harrison, Paul McCartney and John Lennon.
Mr Bramwell, said: "Me and George lived about half a mile apart. He was about seven and I was five, and we would play Robin Hood – I've still got the scar on my neck."
However, it wasn't long after when Bramwell began noticing Harrison (the youngest of The Beatles), becoming musically orientated before his eyes.
By the age of 11, Harrison was having guitar lessons and would regularly visit Bramwell's home to trade records, between his job delivering meat on a bicycle.
Recalling the early years, Bramwell, added: "I would lend him my Buddy Holly's [records], he would lend me his Chuck Berry's. He used to come round and he would be playing his guitar along to the records."
Source: Cameron Hale/staffslive.co.uk