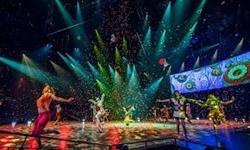 Highly acclaimed since it made its stage debut in 2006, LOVE is a theatrical production by Cirque du Soleil which combines the re-produced and re-imagined music of The Beatles with an interpretive, circus-based artistic and athletic stage performance.
A joint venture between Cirque du Soleil and The Beatles' Apple Corps Ltd, the three-time Grammy Award winning LOVE is described as "a Rock 'n' Roll poem", inspired by the poetry of the Beatles' lyrics and brought to life by a cast of world-class aerialists, acrobats and dancers. Music Director Giles Martin, son of the legendary Beatles producer, Sir George Martin, has heightened LOVE's listening experience with a completely remixed soundtrack, noting "The show is the closest anyone can get to being in the studio with the band."
The show plays at a specially built theatre at the Mirage in Las Vegas and uDiscover Music caught up with two Cirque du Soleil members, actor Uys De Buisson and acrobat Sophia Singleton, to discuss how The Beatles' music connects with the LOVE cast. You can watch it in full below, but to whet your appetite, scroll down to read a few choice extracts.
Source: Tim Peacock/udiscovermusic.com