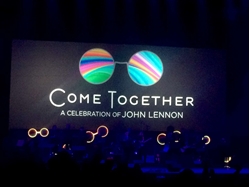 If the Kennedy Center Honors is the venue's biggest end-of-the-year party, the annual Spring Gala gives it a run for its money for live music.
Last year, a star-studded lineup of musicians — Leslie Odom Jr., Babyface, Valerie Simpson, Mary Wilson and BJ The Chicago Kid — turned out to salute the iconic music of the late Marvin Gaye.
On Monday night, this year's ceremony delivered "Come Together: A Celebration of John Lennon," saluting the genius behind so many Beatles hits, as well as a solo career that was tragically cut short.
"You're wondering if we're going to get to your favorite John Lennon song: 'Norwegian Wood,' 'Strawberry Fields Forever,' 'Power to the People,' 'Lucy in the Sky with Diamonds,' 'Dear Prudence'? Sorry, we're not doing any of those. Get over it," emcee David Duchovny joked. "We would've loved to have played them all, but if you wanted to spend that much time sitting in a seat at the Kennedy Center, you'd be over in the Opera House watching 'Madame Butterfly.' … Your [butt] thanks us!"
The event kicked off with a tone-setting group performance of "Come Together" by Taj Mahal, Shawn Colvin, Jim James and Duchovny, who stuck around on stage to sing Lennon's catchy "Instant Karma."
After that, the unbelievably talented Corinne Bailey Rae came out to belt "Don't Let Me Down," followed by Esperanza Spalding wailing Lennon's aching single "Mother" over an upright bass.
By: Jason Fraley
Source: WTOP