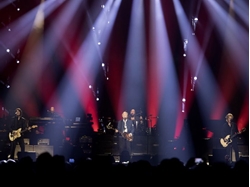 No one could have been surprised that, to paraphrase one of Paul McCartney's earliest lyrics, hearts went boom — again.
From the moment Sir Paul took the stage Thursday night to face a sold-out Bell Centre and launched into A Hard Day's Night — as perfect a musical representation of Beatlemania as he and John Lennon ever wrote — the belief in yesterday was evangelical in its fervour.
And yet one surprising thing about a McCartney show is that the glorious past is approached faithfully, but not reverently — at least in terms of sequencing. Immortals like Lady Madonna and Eleanor Rigby are placed side by side in the set list with more debatable efforts like the recent Fuh You and his 2015 collaboration with Rihanna and Kanye West, FourFive Seconds.
Source: Allen McInnis/montrealgazette.com