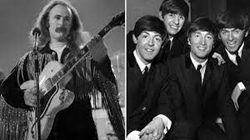 By his own admission, David Crosby is the country's third-most famous stoner, behind Willie Nelson and Snoop Dogg. He's an iconic musician who's found an enthusiastic sideline rating people's joints on social media. And he's looking to leverage that persona into a profitable business selling weed.
His explanation? "Well, I like getting stoned," he told the Los Angeles Times in a new interview for their video series The Green Room.
He went on to cite the experience of getting high with his wife and son. "I like the bonding," Crosby said, and recounted his memories of getting high and playing Words With Friends with his wife. Given that he's been married to his wife Jan for 43 years and says weed is central to their marriage, he might be on to something.
Source: Tobias Carroll/insidehook.com