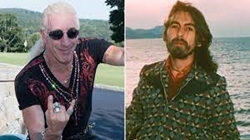 Twisted Sister frontman Dee Snider took his official Twitter account to reply to a post saying that 'We're Not Gonna Take It' has the same drum introduction as George Harrison's hit song 'Got My Mind Set On You.'
Twisted Sister dropped 'We're Not Gonna Take It' in their 1984 studio album 'Stay Hungry.' The song was initially released as a single two weeks before the album, and it became the band's highest-selling single in the United States. It was written by Dee Snider, and was later covered by various musicians.
On the other hand, George Harrison's 'Got My Mind Set On You was released in Harrison's 1987 album 'Cloud Nine.' The song was originally recorded by James Ray in 1962 and Harrison decided to release a cover version. It achieved great commercial success and quickly reached No. 1 in various charts.
Source: Bihter Sevinc/metalheadzone.com