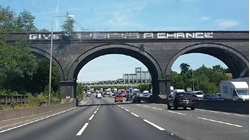 DEVASTATED London commuters have created a petition to save an odd message graffitied on a bridge — even when no one really knows what it means.
RANDOM graffiti doesn't usually ignite so much passion in people, but for many weary Londoner's on their commute home via the M25 motorway, a message emblazoned across a railway bridge became iconic.
The graffiti — written on the Chalfont Viaduct bridge in Buckinghamshire, in Greater London — reads: "GIVE PEAS A CHANCE".
No-one knows for sure what exactly the phrase means — there has been speculation it was a message of support for a prolific London graffiti artist named 'Peas' after he got arrested, or a pun on the title of John Lennon's 1969 protest song, "Give peace a chance" — but either way, it became a comforting reminder for many commuters they were almost home. Until it was recently ruined.
Source: news.com.au