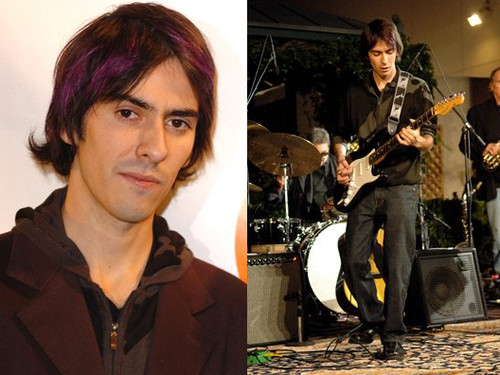 Whenever Dhani Harrison finds himself in the UK – which, he says, is infrequently these days – he heads straight for a place of guaranteed safety: the family pile in Henley-on-Thames. Friar Park is the gated, and lavishly gardened, estate his Beatle father, George, bought for himself back in 1970, which he considered an oasis of peace away from the constant press and fan attention. But his son has found a comparable oasis of his own, and has called Los Angeles home for several years.
"Being in LA is great," he asserts during a brief promo trip to London, "because there are so many weird people out there, so you can just blend in. I like that."
Harrison has spent much of his life wanting just that: to blend in. But when you are the son – and, more than that, the spitting image – of somebody as immortal as George Harrison, that isn't always easy. For Dhani, it hasn't been. Initially, he spent much of his adulthood trying to create a distinct identity for himself (if you believe Wikipedia, for a time he wanted to become an aerodynamicist), but at 34 years old, he seems now to have settled with his fate: he will for ever be his father's son, and for ever in his shadow.
"Playing music has always felt very natural," he reasons. "You know, you do try to do other things, and you do learn lessons that way, but, eventually – well … if your dad is a plumber, you become a plumber. It's the family business, and I felt like I was taking over the family business."
His band, which both mercifully and wisely sounds nothing like his father's, is called thenewno2, and they are about to release their second album, thefearofmissingout, the somewhat irritating insistence on lower caps and no spaces between the words indicative of little more than the fact that Harrison was once a graphic designer.
He likes to describe his band as a complex beast. It comprises his long-time childhood friends Paul Hicks (son of The Hollies' Tony Hicks) and Nick Fyffe, alongside various LA-based session musicians. The new album is a curious thing, wilfully defying easy categorisation. Harrison himself calls it "Hawaiian dub hop", a tongue-in-cheek reference to the fact that it's all over the place, pop and folk and hip-hop drowned in an itchy electronic noise. Reminiscent of Beck's work, its songs – which labour under titles such as "Hanging On" and "Staring out to Sea" – play heavily with themes of displacement and alienation. It is difficult to listen to it and not conclude that Harrison is a man of multiple anxieties. Is he?
"Yes!" he laughs. "But everyone suffers from their own hang-ups, right?"
He certainly does. Even living in Los Angeles, he says, can render a man miserable. "Oh, you can feel abject isolation, even in your own car over there. You know, it's sunny and lovely all the time, and out by the beach it is 70F every day, but each of us is stuck in our own little box. It's a very insecure place, really, and there's an awful lot of stuff that goes along with that …"
Harrison was born in 1978, the only son of the Beatles guitarist George Harrison and his wife Olivia. Raised in Henley and schooled locally, he later attended Brown University in Rhode Island to study physics and industrial design. In 2006, he coined the name thenewno2, inspired by his love of the Sixties TV show The Prisoner and also, he says, because he himself could never be number one (his father was always number one), and set up shop as an arts collective/design company, creating graphics for DVDs and websites.
Though each of the Beatles' sons have always operated under a strict code of silence when it comes to discussing their lot in life, none seems to have become major casualties of their inherited fame. Neither Julian nor Sean were ever going to emulate their father's success and soon stopped trying; likewise, James McCartney, a singer-songwriter who, at 34, has yet to release a full album, and Zak Starkey, Ringo Starr's son, is seemingly content as a session drummer.
But Dhani Harrison did step happily into a Beatles-hued limelight after his father's death in November 2001. He collaborated with Jeff Lynne on George's final album, Brainwashed, and a year later participated in the tribute show "Concert for George", revisiting his father's songs alongside Macca and Eric Clapton. He has since worked on the development of The Beatles: Rock Band, a music video game for the Xbox, and is perpetually rumoured, alongside the other Fab Four offspring, to be dusting off various Beatles rarities for imminent, if never quite materialising, release.
The first album by thenewno2, You Are Here, was released in 2009. It arrived without fanfare, and didn't sell many copies. Harrison argues that this was just the way he wanted it.
"To come out in the music business, you only really get one shot," he suggests. "A lot of people get to play small gigs first, and build up that way, without anyone really seeing them." It is only in this fashion, he continues, that a new band can discover their sound, who they are, and precisely what they are capable of. Thenewno2 never had that luxury.
"I could never just play in a pub in front of four people because I would have had all the press turn up," he says. "That way, you don't get to build up naturally. It makes the work feel unnatural, and puts a lot of unnatural pressure on you."
Which is why he decamped to California, to hang out with all the "weird people", and retain at least a kind of anonymity. If LA is a city where everybody has a colourful back story, then Harrison is merely one of many.
"It's a fascinating place," he says. "You get people going out to parties there every night, not because they are alcoholics, but because they are scared of missing out on something – on anything."
And does he? He suggests not.
"No. I live out by the beach. I have my dogs, I ride my bikes, and I mix with a lot of really lovely, sweet and talented artistic people."
He has also recently married his long-term girlfriend, the former model Solveig Karadottir, about whom, no, he will not talk; likewise the recent claims that he and James McCartney, Sean Lennon and Zak Starkey were about to do something thoroughly foolish and form a next-generation Beatles supergroup. Rumours of these kinds, he complains, spread like wildfire, and to add anything to them is merely to fan the flames. He doesn't want to fan any flames.
"I have my own band, and I want things to happen for us slowly, organically," he says. "You know, the proper way." And so, to coincide with the launch of the album, he is planning an 18-month tour (arriving in the UK in October). "I love the kind of buzz you get when you turn up to a small town, and you shut down a whole street because there are so many people trying to get in. That's what I like. I like making people happy."
You can read the original article
HERE