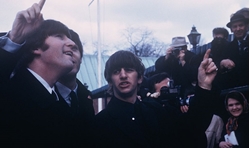 The Beatles may have been known as "the Fab Four," but when you look at the songwriting credits two names always appear: John Lennon and Paul McCartney. It took until late in the group's existence for George Harrison to find his way as a songwriter.
In fact, it wasn't until Abbey Road, the band's last studio album, that a Harrison tune ("Something") reached No. 1 on the charts. As for Ringo Starr, the band's carefree drummer, there weren't many songwriting credits to speak of on any Beatles albums.
The only two Beatles songs Ringo got sole credit for were "Don't Pass Me By" (1968) and "Octopus's Garden" (1969). However, he did sing lead vocals on several tunes. Besides his own two tracks, you'll catch him singing the lead on "With a Little Help From My Friends" from Sgt. Pepper's.
However, Ringo's biggest hit is the song people associate him with the most. That would be "Yellow Submarine," and it came awfully close to topping the Billboard Hot 100 in 1966.
Source: cheatsheet.com