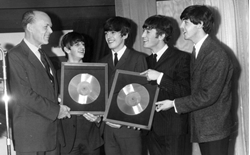 Every musician borrows, and The Beatles were no different. They were the first to acknowledge that to anyone who asked.
Paul McCartney once said the band would simply "pinch as much from other people as they would pinch from us." However, few no bands were ever as successful as The Beatles.
In other words, if you had a legitimate copyright claim against the Fab Four, you had had thousands of reasons to lawyer up and try to sue. That's how George Harrison got caught "pinching" another song on "My Sweet Lord," a solo track he recorded later.
Since that song was one of Harrison's No. 1 hits, he ended up paying out a six-figure settlement. By then, John Lennon had run into his own share of legal trouble over a Chuck Berry song. Lawyers for The Beatles realized right away that Berry's publisher had a case.
Source: cheatsheet.com