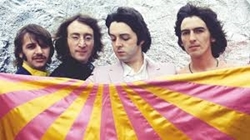 Times pop music writer Randy Lewis takes fans behind the scenes at Abbey Road Studios in London to preview the new 50th anniversary box set reissue of the Beatles' 1968 double album, "The Beatles," aka "The White Album."
A telephone rings in a corner of Giles Martin's private mixing room at Abbey Road Studios, catching the latter-day producer of Beatles recordings by surprise.
"That never rings," he says, reaching over to pick up the receiver. It's his wife, Melanie, calling from their 23-acre farm about 80 miles away with happily urgent news: Eggs laid by one of the ducks they keep — alongside sheep, horses and other farm creatures — were starting to hatch. By the next morning, all seven eggs will yield ducklings.
Martin, 49, is visibly relieved at the farm report, which may well be a good omen for another septuplet delivery he's shepherding into the world: a seven-disc 50th-anniversary box set revisiting the Beatles' 1968 double album "The Beatles," colloquially known as the White Album.
Source: Randy Lewis/latimes.com