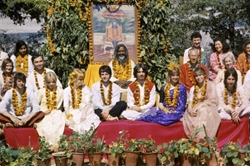 The new feature film documentary The Beatles in India, diretced by two time Emmy award winning producer-director Paul Saltzman, is set to be released worldwide in Autumn 2018.
In 1968, with the eyes of the world upon them, The Beatles travelled to Rishikesh, India, to study Transcendental Meditation with Maharishi Mahesh Yogi in a remote ashram on the banks of the sacred river Ganges. Those few short weeks became one of the most prolific and creative periods of their lives.
Also present at the ashram was a young Canadian filmmaker named Paul Saltzman, there to heal a recently broken heart while seeking his own path to understanding and enlightenment. In the informal and relaxed atmosphere, he captured some of the most famous and intimate photographic portraits of The Beatles ever taken.
Source: Gary Collinson/flickeringmyth.com