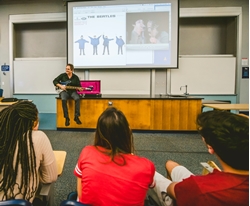 Inspired by the late Steve Jobs' commencement speech at Stanford University where he shared how auditing a calligraphy class in college inspired him years later to add diverse fonts to Apple computers, we set out to visit classes around campus that make us think differently about what it means to be educated. This is one in a series of drop-ins.
When professor Armando Tranquilino takes out his blue Rickenbacker bass guitar, students are not only entertained but they're learning about the social and historical impacts of one of the world's biggest bands.
The History of The Beatles (MUH 2370) is an unorthodox course attracting students of all majors. It's taught face-to-face and online by Tranquilino, a composer and musician. The professor takes an in-depth look at the social changes of the 1960s and the mass influence of the Fab Four.
Source: news.fiu.edu