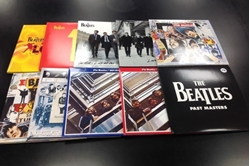 Dublin will host a unique charity 24-hour Timed Online Auction of Elvis and The Beatles on Valentine's Day.
Wilsons Auctions will host the event, featuring over 200 Lots of Elvis and The Beatles music including vinyls, CDs and memorabilia.
All money raised by the auction will go to the owner of the collection to help fund his care with Motor Neuron Disease / ALS.
The auction is guaranteed to set hearts racing for fans of the King of Rock n Roll with the opportunity to purchase from a wide selection of Elvis LPs, CDs and boxsets.
Elvis vinyls include Graceland, Elvis Rocks and the Girls Roll, Aloha from Hawaii, Guitar Man, The Sound of Your Cry, Inspirations and This is Elvis.
Memorabilia on offer will include magazines, posters, trading cards, Elvis ties, cufflinks, paperweights and a framed Elvis Truth About Me vinyl.
The auction will also include a selection of vinyls and CDs from the Fab Four as well as solo material from Paul McCartney, Ringo Starr and George Harrison.
Source: Mark O'Brien/dublinlive.ie