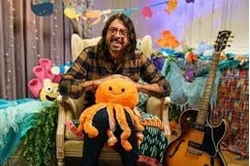 Dave Grohl will read a tale based on The Beatles' 'Octopus's Garden' to children this week for a new episode of CBeebies' Bedtime Stories.
The Foo Fighters frontman will read the story, which is written by Ringo Starr and features pictures by Ben Cort, at 6.50pm BST this Friday (October 8) on the CBeebies channel.
Grohl is the latest high profile star to contribute to the series, which has seen Dolly Parton, Sir Elton John, Robbie Williams and Mark Ronson read stories aloud. Actors including Tom Hardy, Felicity Jones, Tom Hiddleston and Orlando Bloom have also narrated in the past.
Per press material, the story that Grohl will read "follows five children on a magical journey through the Octopus's garden. The playful Octopus takes them on a wondrous underwater adventure, riding on the backs of turtles, playing pirates in a sunken city and sheltering from a storm in the octopus's cave".
Source: Charlotte Krol/nme.com