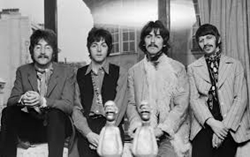 Acclaimed Beatles historian, Kenneth Womack, is on the verge of releasing what has been described as his "most definitive account yet" in the exploration of the writing, recording, mixing, and reception of Abbey Road.
In his new book, 'Solid State' which details 'The Story of "Abbey Road" and the End of the Beatles', Womack steps back in time to February 1969 when the Beatles began working on what became their final album together. Abbey Road, the group's 11th studio album, introduced a number of new techniques and technologies to develop the band's style but also marked the final time in which all four members worked together in the studio.
In his book, Womack focuses on the relationships between John, Paul, George, Ringo, and producer George Martin and his team of engineers as clear fractions begin to develop. Here, in this exclusive extract handed over exclusively to Far Out Magazine, Womack details a significant moment in which guitarist George Harrison made his biggest songwriting breakthrough and, in the process, shaking up the established band dynamics.
Source: Lee Thomas-Mason/faroutmagazine.co.uk