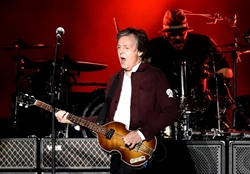 For the latest episode of their "Inside The Studio" podcast, host Joe Levy and the iHeartMedia team made a very special trip to meet with Paul McCartney in Winnipeg surrounding a show on his current tour in support of his chart-topping Egypt Station album.
Paul McCartney telling stories about John Lennon, George Harrison and Ringo Starr, sharing secrets from the Beatles in the studio, on living a normal life while being one of the most famous people in the world and more is every bit the magic you would expect.
This is Paul McCartney on "Get Back," on "Penny Lane," on Sgt. Peppers, on "Blackbird." Just enjoy.
Paul McCartney: I think everyone, like me, who believes in climate change, and that's a lot of people, we're looking at these climate accords and these meetings, there was one in Japan, there was one in Copenhagen, and as these came up we'd all be looking at it and going, "Oh, this will be the one. We're going to do something about it.
Source: Steve Baltin/forbes.com