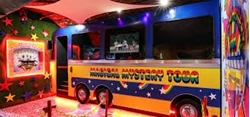 A new exhibition has opened at the Beatles Story, the Liverpool museum dedicated to the city's most famous band.
It celebrates the release in December, 1967 of the Beatles' film, Magical Mystery Tour.
The film was first aired on British television as a 52-minute-long, largely improvised, surreal comedy film featuring the Beatles.
The band's bass player, Paul McCartney, wanted to create a film based on the group and their music, in which various "ordinary" people were to travel on a coach and take a journey of spontaneous "magical" adventures.
McCartney, in a comment made in 2012, said of the film: "It turned out to be a wacky, impromptu romp that puzzled a few people at the time but as the years have gone by it now stands as a fond reminder of that period in our lives."
The film was poorly received by critics and audiences at the time, but the soundtrack, which included six new Beatles songs, was also released in December 1967, was a huge success. It was only off the top spot in the record charts by the band's own single, "Hello, Goodbye".
The soundtrack spent eight weeks at number one in the U.S. album charts and was nominated album of the year in 1968.