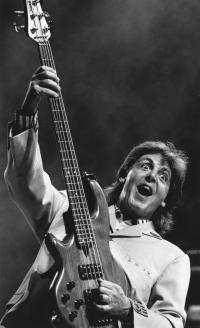 From the moment Paul McCartney, coolly holding his iconic, beat-up Hofner bass guitar, plucked the first notes of the "Out There" tour kickoff in Brazil, the audience must have recognized something momentous was happening.
He was playing "Eight Days a Week," the 1964 rocker that is one of the Beatles' most memorable No. 1 hits. And yet, until that show, the song, penned by McCartney and John Lennon, had never been played onstage. Lennon thought "Eight Days a Week," which the group struggled to write, was "lousy."
It's one of a handful of never-performed Beatles treasures that McCartney exhumed for his "Out There" tour. The nearly 40-song set list starts almost every night with "Eight Days a Week," then slips in four more rarely performed numbers from the Beatles catalog.
Listen to the Audio Version of this News Story

Source: Times - Standard
Photo Credit: Chris Richards (c) 2013, The Washington Post. Moved Thursday, July 11, 2013. (MUST CREDIT: Washington Post) (Rich Lipski)