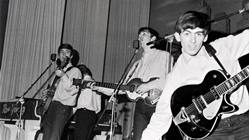 At the tender age of 8, I knew the Beatles were extraordinary. In their appearance on "The Ed Sullivan Show," they sang and played effortlessly, their timing perfect despite rarely looking at one another.
Like thousands of others, I basked in that black-and-white glow on that Sunday night in February 1964, but when it was over, I had a burning question: How did they do that?
I recently had the chance to find out. On a business trip to Germany, I spent three days in St. Pauli, the Hamburg district where the Beatles became really good before they became really, really famous.
My expert guide: Peter Paetzold, a bearded 68-year-old with the street cred of a chain-smoking rock drummer, well versed about St. Pauli's music scene of the 1960s. He grew up around the corner from the Indra club, one of four venues the group played.
Source: Dean R. Owen/latimes.com