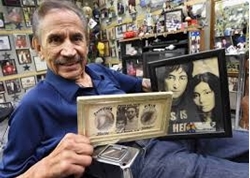 Barber Nick Palomares, known for celebrity encounters at his shop within the Fresno Yosemite International Airport, has died.
John Lennon and Yoko Ono were among his most famous clients. His son, Nicholas Palomares, said his father died Wednesday. He passed away in his sleep at his Fresno home. Up until recent days, Mr. Palomares was still cutting hair, at age 82 – although a foot surgery a few weeks ago forced him to take a break. He also had a heart condition.
Mr. Palomares spoke with The Bee last year for a feature story about his colorful career. His 14 foot-by-20 foot space, Nicholas Jet-Set Haircutting For Men, was covered wall-to-wall with framed photos of musicians, actors, athletes and politicians he met over more than half a century of cutting hair. Barber Nick Palomares sits in his chair in his shop at Fresno Yosemite International Airport in 2017, surrounded by photos, autographs and mementos of famous people he's encountered over more than half a century of cutting hair.
"I sort of like the fact that it becomes a statement to say, 'Fresno is not a hick town,' " he said of his celebrity photos, "because otherwise you wouldn't have these people coming here.'"
Source: By Carmen George cgeorge@fresnobee.com