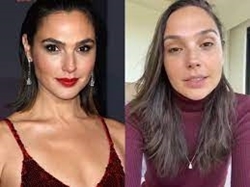 Nearly two years after, um, gifting the world with a celebrity-studded version of John Lennon's "Imagine," Gal Gadot is having second thoughts.
The "Wonder Woman" actor is profiled for InStyle's February issue and, in the accompanying interview, addresses the backlash she received in 2020 after the video ― which featured appearances by Amy Adams, Zoë Kravitz, James Marsden, Mark Ruffalo and other stars ― went viral.
Though Gadot hoped "Imagine" would comfort fans as COVID-19 sent much of the world into lockdown, the video got an icy reception from critics. "Peak cringe," proclaimed NBC News, while The New York Times called it "an empty and profoundly awkward gesture." Many people on social media suggested the participating stars could have better served those suffering from the effects of the pandemic through donations or other charitable acts.
Source: Curtis M. Wong/huffpost.com