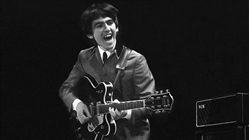 The 2002 George Harrison tribute concert brimmed with music greats – Paul McCartney, Ringo Starr and Eric Clapton, among them – who played the late Beatle's best known songs, a year after his death at age 58.
But the show ended on an unexpected note with respected, but far-from-superstar musician Joe Brown strumming a ukulele center stage at Royal Albert Hall, singing "I'll See You in My Dreams," a big hit from 1925.
It marked a pure "George" moment: low-key, but high-impact. Just a pal playing one of Harrison's favorite instruments, performing a sad and sweet song about love, loss and the power of memory.
"Concert for George" earned a theatrical rerelease and a reissue on vinyl this week in honor of a Beatles milestone that otherwise might have gone largely unheralded by all but hardcore fans: the 75th anniversary of Harrison's birth.
Source: By Jere Hester/nbcconnecticut.com