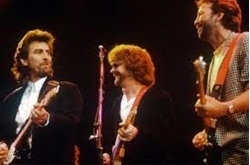 Before George Harrison started any part of his 11th studio album, Cloud Nine, he needed a producer, and the first person that came to mind was Jeff Lynne, ironically. George once called Lynne a Beatles copycat. However, he realized how wrong he was and contacted Lynne.
After meeting, the former Beatle wanted to get to know the ELO frontman and producer before they started work. George had to make sure they'd be good songwriting partners. Lynne passed the test, and the pair began Cloud Nine. Once they started, George realized why he and Lynne worked well together.
Initially, George knew it was ironic that he wanted Lynne to produce Cloud Nine. However, that was the reason why George wanted the producer. If Lynne was a Beatles copycat, that was OK with George. He wanted someone who made music like him.
Source: cheatsheet.com