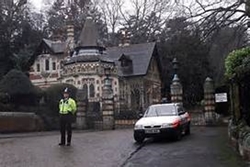 George Harrison is attacked at his Friar Park home
Thursday 30 December 1999 George Harrison
George Harrison was seriously injured after being stabbed multiple times by an intruder in his home, Friar Park near Henley-on-Thames, Oxfordshire.
Michael (Mick) Abram, a mentally ill man born in 1966 in Huyton, Liverpool, had scaled a perimeter wall and walked up the drive to the mock-Gothic mansion. Although security cameras were positioned by the main gates and the back entrance, the boundary fence in parts of the grounds was in a state of such disrepair that it was easy for an intruder to gain access.
At around 3.30am in the morning of 30 December 1999, Abram threw a statue of George and the Dragon through a window to gain access. Harrison's wife Olivia awoke first, initially thinking a chandelier had fallen before realising an intruder was in their house.
Source: Beatles Bible