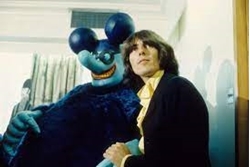 George Harrison liked that The Beatles' 1968 film, Yellow Submarine, required minimal effort from him and his bandmates. The filmmakers only needed their music to create the psychedelic film.
In a 1999 VH1 special, George said that the best part of The Beatles' Yellow Submarine was that they didn't have to do anything to it.
"Actually, the thing that I like most about the movie was we didn't really have to do anything to it," George said. "They just took the music, we met with them, and they talked about basically what they were going to do." Then, the filmmakers took it from there.
Paul McCartney said they did a great job translating each of the Fab Four's personalities into cartoon characters.
In 1999, The Beatles reissued Yellow Submarine. George was surprised at how good the film's songs sounded remastered.
"The sound of the cellos in 'Eleanor Rigby,' it's just amazing when you think it's-I mean, I said the cellos, there's only one. It's a string quartet, but it sounds like… It was recorded so well."
Ringo Starr said hearing the new mix surprised him and Paul. As George said, much of the remastering had brought out sounds even the band didn't know were there. It was ultra clear.
Source: Hannah Wigandt/cheatsheet.com