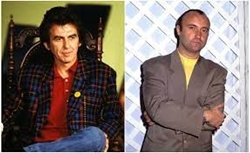 George Harrison had a wicked sense of humor. He was buddies with the guys from Monty Python, after all. George knew how to have a good time, even during periods of his life that were especially grueling. His life was dark sometimes, but he always knew how to laugh, especially if it was at someone else's expense. So it's not surprising to hear that George pulled an elaborate prank on his fellow rocker, Phil Collins.
Collins was a huge The Beatles fan. So he signed up to be a session musician for George Harrison when he was recording his first solo album outside The Beatles, All Things Must Pass, in 1970. At only 19, Collins got to work with one of his heroes.
"Our manager got a call from Ringo Starr's chauffeur, who said they needed a percussionist, and he suggested me," Collins told Louder Sound. "So I went down to Abbey Road, and Harrison was there and Ringo and Billy Preston and Klaus Voormann and Phil Spector, and we started routing the song.
Source: cheatsheet.com