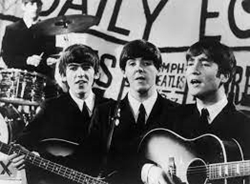 None of The Beatles considered themselves great musicians in 1963
The band didn't anticipate being so successful
George Harrison said The Beatles didn't play for the money. But the money was nice.
One year after The Beatles started their rise to fame in the United Kingdom, John Lennon, Paul McCartney, George Harrison, and Ringo Starr weren't exactly confident in their individual abilities as musicians. But they were confident in how the group sounded as a whole. In a 1963 segment for the BBC program The Public Ear, the band members spoke about their musicianship and how successful they were at the time.
Source: cheatsheet.com