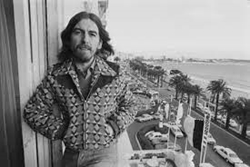 George Harrison rose to massive global success in The Beatles, but he said the fame grew tiresome. By the time the band stopped touring, Harrison said he was relieved. Though the band stayed together to work on music, they broke up in 1970. While fans mourned the breakup, Harrison said that it felt inevitable. He also said that there was a sense of relief to be done with the band.
George Harrison stands on a balcony with his hands in his jacket pockets.
Harrison said that he enjoyed fame when he was young, but it began to wear on him, particularly after he tried LSD for the first time. He said the experience was life-changing for him.
Source: cheatsheet.com