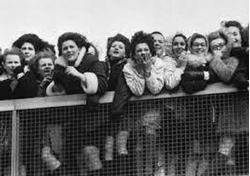 In the 1960s, Beatlemania became so widespread that George Harrison said The Beatles were sometimes frightened by the unruly crush of fans. He explained that there were several near-misses with danger whenever they toured. While they found chaos wherever they went, Harrison explained that Texas felt particularly bad. He said that the first time they visited the state, the police were woefully unprepared for the sheer amount of fans who had come to see the band.
Ringo Starr, Paul McCartney, George Harrison, and John Lennon of The Beatles wave as they exit a plane.
In the 1960s, The Beatles inspired pandemonium wherever they went. A Scottish concert promoter, Andi Lothian, said the crowd was unlike anything he'd ever seen before.
55 years ago today, Pan Am flight 101 was greeted by over 5,000 Beatles fans as it arrived at New York's JFK airport, bringing The Beatles to the US for the first time and causing riotous scenes as they touched down.
Source: cheatsheet.com