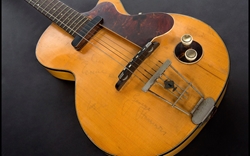 George Harrison's first electric guitar has emerged for sale for £220,000.
The legendary Beatle acquired the Hofner Club 40 model in the summer of 1959 as a 16-year-old after trading it for another guitar.
He kept hold of the instrument for seven years as the band went from playing youth clubs to stadiums.
Harrison once described it as "the most fantastic guitar ever", but was persuaded by manager Brian Epstein to give it away to promote their 1966 Germany tour.
His guitar was offered as the star prize for the winners of 'The Best Beat Band in Germany' organised by German music venue Star Club where the band had played in the early 60s.
The competition was won by local band The Faces and the instrument was presented to Frank Dostal, its singer and guitarist.
Dostal kept hold of it until his death last year but his widow Mary Dostal, a former member of Liverpool band the Liverbirds, has consigned it for sale with US based auction house Julien's Auctions.
Source: telegraph.co.uk