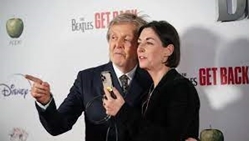 George Harrison would have been "very happy" that relationships between Beatles' members are cast in a more positive light by a new documentary, his son has said.
The film aims to provide an honest insight into the relationship between the men and their creative process during the January 1969 recording sessions.
Dhani Harrison said his father had always been "bummed out" that this part of the world-famous rock band's history was associated with negativity.
The documentary, to be released later this month and directed by Peter Jackson, is made entirely from never-before seen footage.
Source: Mike Bedigan/independent.ie