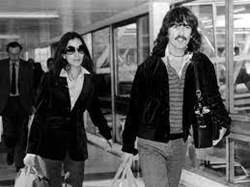 George Harrison's wife Olivia says she's never considered herself a "Beatle wife." When Olivia met George in the early 1970s, he hadn't been a Beatle for years. He was a completely different person.
However, since George died in 2001, Olivia has taken her husband's place in The Beatles' affairs.
Technically speaking, Olivia is right. She has never been a Beatle wife in the literal sense. That role went to George's first wife, Pattie Boyd. George met Boyd on the set of The Beatles' A Hard Days' Night in 1964. They married in 1966, but they had some pretty big bumps. Boyd got sick of George's infidelities and left him for his friend Eric Clapton.
Source: cheatsheet.com