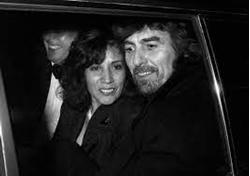 During his days in The Beatles, George Harrison was often overlooked. He was the quiet Beatle, but that wasn't exactly true. George didn't start as the strongest songwriter, but his songwriting skills skyrocketed halfway through his time as a Beatle. When he embarked on his solo career, he became the first Beatle to snatch a No. 1 song as a solo artist. Later, his career only got better and better.
However, being one of the best recording artists and a Beatle didn't exactly convince George that fans would remember him when he was gone. His wife Olivia says this is impossible, but it's also a very George thing to think.
George Harrison and his wife Olivia out to dinner in 1990.
Source: cheatsheet.com