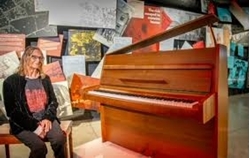 The estate of the late George Michael have loaned John Lennon's 'Imagine' piano to the Strawberry Field exhibition in Liverpool so it can go on public display.
The Steinway piano, which the late Beatle wrote and recorded his 1971 song 'Imagine' on, was bought by Michael at auction for £1.45 million back in October 2000. He later toured the piano around the world "as a symbol of peace" and used it during the recording of his song 'Patience'.
Speaking to reporters at the time of the auction purchase, the late singer said that "it's not the type of thing that should be in storage somewhere or being protected, it should be seen by people".
Source: Sam Moore/nme.com