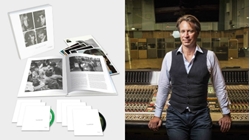 Courtesy of Apple Corps Ltd./Capitol/ UMeOn Wednesday at New York City's legendary Power Station recording studio, reporters got a first listen to the upcoming reissue of The Beatles' self-titled 1968 double album, a.k.a. The White Album.
Giles Martin, late Beatles producer George Martin's son, headed up the project with the blessing of, and input from, Paul McCartney and Ringo Starr, as well Yoko Ono and Olivia Harrison.
Martin was on hand to play selected tracks for the intimate crowd, and while John Lennon once famously said the album was the sound of The Beatles breaking up, Giles believes nothing could be further from the truth.
According to Giles, both Ringo and Paul agree that the recording sessions revealed the sound of a band working together collectively as a unit to push themselves artistically, and doing pretty much whatever they wanted -- much to his father's chagrin.
Source: abcnewsradioonline.com