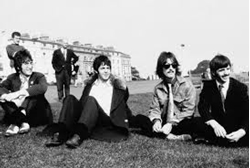 On September 22, "Everything Fab Four," a new podcast devoted to discussing the Beatles' enduring and evolving cultural and personal significance, will launch on Spotify, Apple and wherever you get your podcasts. As the host, I have experienced great joy in exploring our guest stars' tales of Beatles discovery and obsession.
Beatles fans take great pride in relaying their stories about discovering the Fab Four. For many first-generation listeners like Toto's Steve Lukather, the story often centers around "The Ed Sullivan Show" on that auspicious Sunday evening of February 9, 1964, when the Beatles launched the British Invasion by seizing control of millions of American television sets.
For yet others, their Beatles fandom finds its origins in other places, like a darkened movie theater while gazing upon the bandmates' kinetic screen energy in "A Hard Day's Night." There are thousands upon thousands of Beatles fans who proudly display their ticket stubs from a concert experience during the throes of Beatlemania. Veteran rock 'n' roller Michael Des Barres remembers seeing them perform up close and personal at a New Musical Express Poll-Winners concert.
Source: Kenneth Womack/salon.com