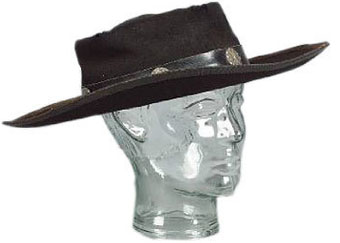 One of the most recognized iconic and historic artifacts from the final days of the Beatles is now up for auction on eBay. It is the hat worn by John Lennon for the last official Beatles photo shoot on August 22, 1969, at Tittenhurst Park, two days after their final recording session.
The hat, borrowed by John Lennon from longtime Beatles friend Mal Evans, is black felt with an outer band decorated with six metal discs with arrow and dot motif. Its current owner obtained it in the fall of 2006 at a Bonhams Auction in England, it has been on display at the Youngtown Museum in Ontario Canada since 2008.

It comes with original signed letter from Mal Evans wife, the original high quality ornate hat box and literature as provided by Bonhams, and two original vintage 8" x 10" promotional Apple photos of the Beatles with John wearing the hat. It is expected to sell for over $5,000. The eBay auction runs for 6 more days.
Listen to the Audio Version of this News Story

Source: Beatles News
Photo Credit: T.R.H Owner 2013