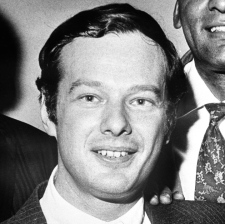 WEST End theatregoers are about to view him as The Man Who Made The Beatles, but for veteran Liverpool solicitor and ECHO columnist Rex Makin he was, first and foremost, a friend and next-door neighbour. From 1945, when he was 11, Brian Epstein's family home was 197 Queen's Drive, Childwall. Rex, who was nine years older, moved into 199 when he married Shirley in 1957. And it was to Rex that Brian's grieving younger brother, Clive, and mother, Queenie, turned when the Fab Four's manager was found dead in his London home – 24 Chapel Street, Belgravia – during the August Bank Holiday weekend of 1967. The Beatle Making Prince of Pop, as the Daily Mirror called him on its front page the following day, was just 32. An inquest later found that Brian – whose dad, Harry, had only passed away the previous month – died as a result of "incautious self-overdoses" of Carbitral sleeping pills. A verdict of accidental death was recorded.
"I didn't see this play (Epstein: The Man Who Made The Beatles, starring Andrew Lancel) when it was on in Liverpool," says Rex, and he has no intention of seeing it during its West End run. "It pains me as it brings back too many sad memories." In 1957, Brian Epstein was 23, and still trying to find his way in the world, while Rex was 32, and already a successful solicitor. Two years earlier, Brian had won a place at the Royal Academy of Dramatic Art (RADA) in London, but left after just three terms believing an actor's life wasn't, after all, for him. Rex recalls: "I didn't see much of Brian until he was mature. Then I saw him socially at Philharmonic concerts and other social events. He was devoted to classical music. His parents were very sociable, while Brian was a very artistic individual. He did stand out – he was certainly outre, as far as clothes were concerned. His brother Clive was more staid. "I recall we all went to the lounge at the Adelphi after concerts for coffee – it was a well-known social meeting place."

Read more on this story......
Source: Liverpool Echo