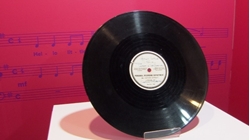 On display in a museum in Liverpool is a tiny record that changed the history of music.
Made in 1962, it holds a recording of "Hello Little Girl" by a then-unknown band called "John Lennon and the Beatles".
The Fab Four were struggling to get a record deal when their manager took this record to a meeting with George Martin, the man who would become known as "the fifth Beatle".
He saw the potential in the music group that day - and the rest is history.
This is the amazing story of the record that started it all:
Source: ITV Report