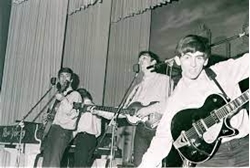 On August 17, 1960, the Beatles kicked off one of their earliest professional gigs—a months-long residency at the Indra Club in Hamburg, Germany. Over the next two years, the budding British rock stars, who'd struggled to book venues in their hometown of Liverpool, continued to perform regularly in the German city.
"We had to learn millions of songs because we'd be on for hours," guitarist George Harrison later recalled, as quoted by the Los Angeles Times' Dean R. Owen. "Hamburg was really like our apprenticeship, learning how to play in front of people."
Now, reports Richard Brooks for the Observer, a trove of largely unseen letters, photographs and work permits from this pivotal period is set to go up for auction. The mementos—including a 1963 missive in which Paul McCartney discusses the release of the band's first LP, Please Please Me, as well as sketches and poems by John Lennon—will go under the hammer at the London-based auction house Bonhams on May 5.
Source: Isis Davis-Marks/smithsonianmag.com