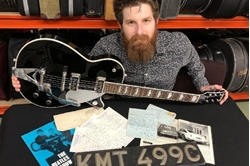 Luke Hobbs of Gardiner Houlgate with the letters and the number plate set to go under the hammer,
A Beatle's car numberplate that was first sold in Leeds in return for free haircuts could fetch thousands of pounds next month when it goes up for auction.
The numberplate KMT 499C was removed from an Aston Martin DB5, once owned by the late George Harrison, by a mechanic at Arnold G. Wilson Limited's Regent Street dealership in Leeds in the early 1970s.
It was one of two plates being replaced with new style reflective plates while the car was being serviced. The rear numberplate remained at the dealership for several years until a member of staff sold it to a local barber, who collected car memorabilia, in return for free haircuts for life. The numberplate was subsequently sold to the collector.
Source: Emma Ryan/yorkshireeveningpost.co.uk