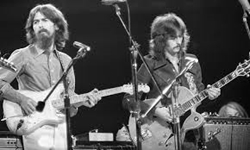 When George Harrison asked his friend Eric Clapton to play the guitar solo on his new song, Clapton was understandably nervous about the situation. After all, The Beatles weren't known for guests playing on their records. It basically hadn't been done, and Clapton wasn't keen on being the first to try.
However, George finally convinced him to shrug off these concerns and deliver the memorable solo on "While My Guitar Gently Weeps." Of course, that's only part of the story. Beatles fans would be right to wonder why George needed anyone to solo on his latest composition.
For one thing, George was the Beatles' lead guitar player. By the time of these White Album sessions (summer 1968), just about everyone on the planet knew what George played in the Fab Four.
Source: cheatsheet.com