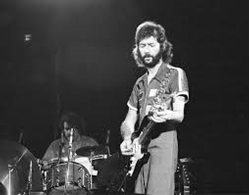 When Eric Clapton headed into Abbey Road studios to play guitar on a Beatles song in 1968, he didn't take it lightly. In fact, he tried to convince George Harrison it was a bad idea. "What will they say?" Clapton wondered.
Prior to Clapton's solo on "While My Guitar Gently Weeps," no rocker had gone into a Beatles session and played lead on a record. So you can see why even a pro like Clapton would be nervous about it. Nonetheless, he recorded the solo and it turned out great.
Later that year, Clapton played with John Lennon again when the two (along with Keith Richards, Yoko Ono, and Mitch Mitchell) played a few tracks for the Rolling Stones' Rock and Roll Circus. At that point, Lennon knew how Clapton played and liked his guitar style.
Source: cheatsheet.com