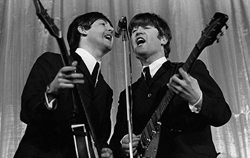 Whether you go by total record sales, number of hit singles, or overall hysteria levels, The Beatles have been the band to top since the early '60s. In particular, their album sales (now nearing 185 million copies) set a mark we doubt anyone can beat.
Once they went their separate ways, each former member of The Beatles scored multiple No. 1 singles on their own. However, when the band was together, you find the Lennon-McCartney songwriting duo handling most of the lead-singing duties on the band's top hits.
In George Harrison's case, it took until Abbey Road (The Beatles' last studio record) to get the lead vocal on a No. 1 ("Something," which George wrote). As for Ringo, the closest the band's drummer got was No. 2 on the Billboard Hot 100 charts as lead vocalist.
Bu if you look at the Fab Four's 20 chart-topping hits, you find something unusual: John Lennon and Paul McCartney can claim an almost equal number of No. 1 hits on lead vocals.
Source: cheatsheet.com