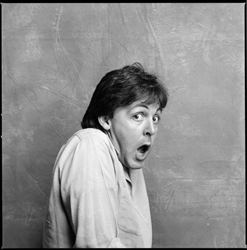 1989 was the year classic rock surged back into the international mainstream.
It was a year that saw Lou Reed release his best album of the '80s with New York, the Grateful Dead craft their final studio recording with Jerry Garcia with the better-than-you-remember Built to Last, Tom Petty go solo with Full Moon Fever, Billy Joel dropping his final classic LP with Storm Front, Neil Young returning to Reprise with Freedom, Rush bringing back the guitars on their Atlantic Records debut Presto and the Rolling Stones reclaiming their stake as the World's Greatest Rock 'n' Roll Band with the exceptionally underrated Steel Wheels and its subsequent world tour. And, of course, Cycles by the Doobie Brothers.
However, perhaps the greatest record to emerge from the world of AOR in 1989 was Paul McCartney's Flowers in the Dirt, the latest Macca LP to receive the deluxe-edition treatment as part of the Paul McCartney Archive Collection.
An album that impressively reclaims the artistic credibility that was nearly derailed by his creative output in the mid-'80s, McCartney's eighth studio album is an absolute pleasure to rediscover today.
During the summer it was released, rumor had it that McCartney had recorded music for the album with Elvis Costello that would not only appear on Flowers but the new wave icon's own new record Spike, his debut endeavor on Warner Bros. Records, which, 28 years later, remains the Costello's most versatile album.
By: Ron Hart
Source: Observer