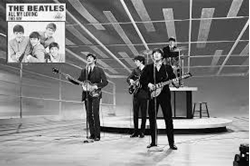 In the Beatles' early days, the songwriting partnership between John Lennon and Paul McCartney was balanced and consistent enough to warrant their 50/50 credit system. But the sweetly resolute road song "All My Loving" deviated from that norm.
The song — which famously opened their debut Ed Sullivan Show performance on Feb. 9, 1964 — was a solo McCartney composition, top to bottom. It originated the previous year, hashed out efficiently in their usual style from those days. And there was one other wrinkle. "It was the first song [where] I'd ever written the words first," the bassist recalled in 1997's Many Years From Now. "I never wrote words first, it was always some kind of accompaniment. I've hardly ever done it since either."
McCartney dreamed up the lyrics, envisioning a "little country and western song," as the Beatles traveled in a tour bus to a gig. Temporarily without a guitar, he sat down at a piano in the venue's cavernous backstage area, figuring out a melody. "It was a good show song," he added. "It worked well live."
Source: ultimateclassicrock.com