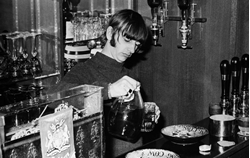 n 1962, The Beatles came to an early crossroads. As the band geared up for a big recording date with producer George Martin, they had a problem on drums. The problem was, Martin wouldn't use drummer Pete Best on the records because he wasn't good enough.
Martin, thinking Best was around for his looks rather than his musical skills, figured he'd use a session drummer for recordings while The Beatles would keep Best for live shows. But that didn't happen. The band's manager promptly fired Best and brought Ringo Starr aboard.
At the time, Ringo was no stranger to anyone. He'd sat in for Best on occasion and had established his reputation in Liverpool playing behind Rory Storm. Paul McCartney said he and his bandmates considered Ringo the top drummer in town.
Source: cheatsheet.com